Later this month I'm headed to Minneapolis to the Women in Agribusiness Summit to collect an award on behalf of Beck Ag. We are being honored as "Company of the Year", one of three 2015 Demeter Award of Excellence recipients. We are pleased to join companies like Dow AgroSciences and Agrium who have been past recipients.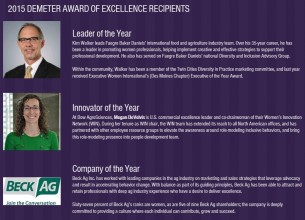 This is an award I am honored to accept on behalf of the 110 plus individuals and our partners who make up Beck Ag and work every day to impact the business results of our clients and their customers. The work we do is serious, challenging work that affects change in agriculture. The focus of our mission is to improve business results for our clients and their customers. Our jobs require commitment, creativity, understanding, a deep knowledge of the industry and a willingness to always keep learning and improving.
Our Guiding Principles ensure that we are providing the environment for a balanced and productive life for our people.
I know. Just bringing up the idea of "balance" in the industry of agriculture might sound a little crazy. You may have read 700 articles online about how to achieve balance, and 701 that say there's just no way life can be balanced.
Think about it this way. At Beck Ag we can make choices and create a culture where those choices can be discussed and where those choices can lead us in the direction of balance. Balance is something that's different for every one of us. Working in a virtual company, we allow each employee or contractor to be where they want to be, which allows for us to have some exceptional talent working for our clients. Face it, as you move further along in your career, you've likely gone back and forth with your spouse a few times on whose job gets priority. You may have turned down a promotion that comes with a move, or passed on a great job offer because the kids are in school now and you didn't want to uproot them. Perhaps your parents are aging, and you need the flexibility to be able to check in on them often. Work location is a big piece of the balance puzzle.
When you have the chance to work in the place that's most efficient for you, you capture time savings that can be invested in balance.
My daughter used to laugh that our virtual company meant it was imaginary. The nature of how our company does business may be hard for a child to explain to their friends. But once experienced – the flexibility for our employees and contractors, the excellence for our clients – we see that it is a good place to come to work every day. And we are honored for the recognition!