If you have a good brand, you have a favorable place in the mind of the customer or prospect. It means who you are trying to be to them matches their opinion of you. How do you purposefully first develop that spot in the customer's mind? And how does the prospect think of you first in that space?
The answer has a lot to do with "thought leadership". This is a strategy that's very helpful when you have a product that people don't even know that they want or need yet. Often in content marketing, this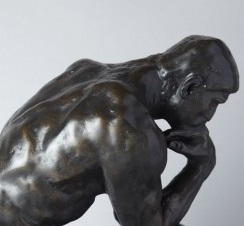 means writing stories. In Experiential Marketing, experience sharing, it means making sure there is a forum where your best customers are talking with your prospective targets. Done well, thought leadership follows some rules.
Take on a hot topic. It doesn't have to be controversial. Find a connection to something that's bringing concern and conversation. And for the sake of this, let's not limit ourselves to online. What are farmers concerned about today?
Profit margins
Information and Decision management
How consumers view them
Labor
Government pressure
If you're putting thought leadership into your marketing strategy, follow trends to make sure you stay interesting.
Use a credible expert. Think about when you are in an online forum of googling something. It's typically easy to see who is a credible source of information and who is not. If I'm booking a hotel online, I read reviews from previous customers. If I have a question about something, I may contact a person within a company who appears to have the specific expertise or title. And maybe I'll go for a third party expert in a particular area if I have that option. Think about your expert options as you work on thought leadership.
Satisfied customer
Expert staff
Third party expert
Step away from the crowd. I think about those growers who are innovators, the ones producing 100 bushel soybeans. They had to start out by thinking differently than "this is how we have always done it." Your thought leadership should be the same way. By definition, if you're doing what everyone else is doing, you're probably not a leader.
Address the pain. Information that's most compelling is that discussion that gets to the heart of what's causing pain. Think about it this way. A succession planning expert can talk about wills and business structure, blah, blah, blah OR he can talk about just what happens if this isn't done right. What are the consequences? How high are the taxes? Is the family rift permanent? That's pain.
Draw the lines between the discussion and your business. Nobody wants to spend a lot of time reading an ad, but if you've told some of this story, piqued their interest, or made them realize this is a problem they have that needs to be solved, go ahead and share the solution. I will tell you that our company helps connect farmers and other ag professionals with those who can help them learn more about new products and innovations to address their pain. Our people, many of whom have spent long careers in ag marketing, make the process easy, since we manage many of the moving parts. And we are able to track results with an ROI number.
Return on Investment. Thought leadership should translate into sales. Whatever you're offering your thoughts on, should help the customer in a way that they feel like they got a good deal. It should be easily measured when you close the loop, and track.
Here's an article from Inc. magazine that walks through these and other elements of thought leadership.
If you'd like to know more about our brand of thought leadership, something we call Experience Sharing Marketing, drop me a line at info@beckag.com.