A picture like this means one of two things. Sometimes when you see this kind of a lineup, it's a giant farm operation in Ukraine or Brazil. The difference is that the machinery doesn't match. In this picture, neighbors were pulling together to help a farmer who could no longer bring in his own crop because of cancer. These farmers built an assembly line scenario to harvest 450 acres in ten hours.
What this picture says to me is teamwork. It's a small town value that's evident when there's someone in need.
This past week I attended the Women in Agribusiness Summit in Minneapolis and accepted an award on behalf of our team at Beck Ag. We were honored as Company of the Year, one of three Demeter awards. We joined Dow AgroSciences, the 2013 recipient, and Agrium, Inc., the company named last year.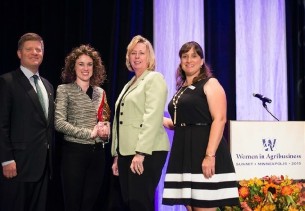 We These two pictures signify teamwork to me. Anne Holmquist and I represented our Beck Ag team at the ceremony. But the award is for all of us – for our teamwork in building a company that allows our employees and contractors to have flexible schedules while still doing important work in agriculture.
While a typical U.S. corn harvest may not involve so many machines in the field at once, there's still a lot of teamwork and coordination and flexibility. And all are focused on THE GOAL, bringing in the harvest.
This week, Sam Hudson posted on BeckAgConnects about the pace of this year's harvest. It's fast and furious where it has started. In one week in Illinois, the state's farmers brought in 20% of the corn crop. Nationwide, 21% of the soybeans were combined in the past week. The pace of harvest right now only lags behind 2012 and 2010 for speed.
Teamwork is the most powerful when we're under a deadline or when we're dealing with issues beyond our individual control. I notice at Beck Ag that our teamwork is evident when we're stretched into new circumstances.
We're able to do the work and do it well because, like the farmer we serve, we have experience, confidence and a strong work ethic.
Other important factors that help us to deliver well and timely are proven processes, strong communications, and people who understand their roles but also have a firm view of the big picture. We know what happens when we cut corners during harvest. Equipment breakdowns, low grain quality, injury, or worse. Patience and perspective are important in our work as well. The bottom line is that we're all focused on yield – and teamwork is the key to our bin buster.