Crop and livestock producers and those who serve and support the production industry may look online for connection. But it can be hard to "talk business" in front of those who don't understand agriculture. There's a lot of internet pushback.
BeckAgConnects.com provides a gated online community, if you will, for secure business to business type discussions to take place. Producers can talk to other producers or to retailers on the site. A recent survey of members shows the site is on the right track.
In fact, 78% of the 1,416 respondents said they find it valuable or very valuable to have access to this private online community. 
The community has experienced substantial growth in the past year alone, expanding from about 16,000 members to now nearly 31,000 members.
74% of respondents said the information is useful or very useful.
94% of respondents say they read information from BeckAgConnects.com.
The business rich content on the site is often shared with partners, peers, customers and input providers. 73% said they share information from the site. That sharing trend has increased significantly from last year's survey, when 38% responded that they share information from the site. 
24% of users save some of the information for future reference. This number more than doubled, up from 11% in the previous survey.
"It's important for us to conduct this annual survey of our subscribers, so we can keep a pulse on the needs of the community," according to Margaret Oldham, who has shepherded the online community from its launch. "We provide distinctive content on BeckAgConnects from experienced people in the industry. It's very practical information that farmers can use to improve their crop and livestock production. It's also a place for our retail community to learn and share as well. Producers and retailers learn from each other in a moderated environment. The increase in sharing and saving information reflects on this more challenging agricultural environment, with everyone seeking solutions. Our informed, experienced community makes this a great place to research new ideas from a substantial group of peers and industry experts."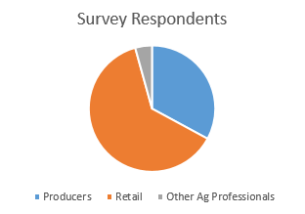 Survey respondents included ag producers, ag retailers and others who work in agriculture.
BeckAgConnects provides private forums for companies and organizations to be able to interact with selected members of the ag community. Sometimes they're clients or prospects.
In general, BeckAgConnects members are decision makers. Of those responding to the survey:
45% make decisions about pesticides.
45% make decisions about fertilizer.
42% make decisions about seed.
39% make decisions about all areas of their operation.
24% make decisions about precision farming.
The age range of BeckAgConnects members reflects the general ag population with 64% of survey respondents 45 years or older. Oldham said Beck Ag will be taking steps in 2016 to expand their membership with younger producers, retailers and other ag professionals. "BeckAgConnects is a great source of information for anyone in agriculture and the fact that more mature members find such value makes us realize that younger people in agriculture could benefit from the wealth of knowledge and resources available in the community."
If you're interested in a members-only online community for secure conversations about ag issues and opportunities, apply at BeckAgConnects.com.