Hey agriculture, we've got a lot of work ahead of us. As the dynamics of our population have changed and fewer farmers are feeding more people, naturally those non-farming people are getting further and further from their understanding of agriculture.
We in farming have done a great job of being efficient and garnering technology to help us grow more food and fiber. But our skeptics are getting louder. Just last week, Dr. Oz was on TV scaring people about a new product that's available to farmers. He's something of a mouthpiece for those who create false images of farmers dousing their fields with chemicals and doing it close to schools. Click HERE to read how one agricultural advocate debunked Dr. Oz's claims.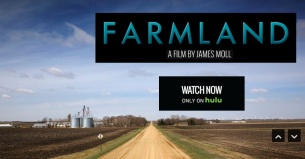 We have the Food Babe, a scientist (well, a computer scientist) preaching that we shouldn't eat anything that we can't pronounce. Her method has been to put consumer pressure on food companies, hurting them in the wallet, while selling her own food products and running ads for others.
Many of you already spend time advocating for agriculture – but we need more of you to offset this ever-louder voice of suspicion. The movie FARMLAND was created to open the farm gates and give consumers an honest view into farm life and farm business. More people need to see it and continue the conversation that it started. And there's where we come in.
Back in June, I wrote about our online community, BeckAgConnects.com. Here's the post. Now we're collaborating with the U. S. Farmers and Ranchers Alliance, whose generous support made the FARMLAND film possible. Together we are hosting the "I AM FARMLAND Forum" on BeckAgConnects for you to get more in depth with the film – getting to know some of the farmers involved. We want to make more of you feel comfortable advocating for agriculture. Our goal is to give you the tools and the confidence to get out there and have those conversations.
In addition, we want to promote the film to more consumers and engage in conversations about this authentic look at the life of farmers and ranchers. Starting Oct. 2, FARMLAND is available for four weeks in a digital format exclusively on Hulu. This will make it convenient for you to stream the film using several devices, including connected TVs, Blu-Ray players, gaming consoles, computers, tablets and mobile devices.
So check out the film and join the conversation at the "I AM FARMLAND Forum". Remember, BeckAgConnects is a secure online community, just for agriculture. So you can rest assured that your online discussions are with others who care about ag as much as you do. Please click HERE to join the conversation about FARMLAND.