The way we're feeling in parts of the Midwest today from the weather threat isn't all that different from how the agricultural economy feels these days. Forecasters are predicting large amounts of snow and wind. Batten down the hatches. Go to the grocery store.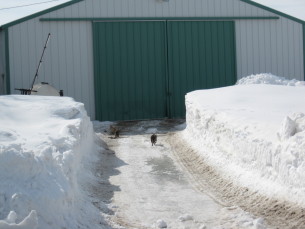 Agriculture is battling tight margins, facing difficult decisions. It's a different kind of storm, but it's something we must weather. We can choose to stay indoors and do nothing. Ignore. But it's best to prepare. Plan ahead. Have a strategy.
At Beck Ag, our strategy is to expand now, to grow, to increase our capabilities. We are doing this because our industry needs solutions in times of challenge. You may have seen our news. Tom Bechman wrote a nice article about us in Farm Futures. We had the opportunity to bring in some talented people, processes and capabilities from Adayana Agribusiness Group, and that's what we've done.
While those of us in the Midwest may be digging our way out of this blizzard, we really need to think our way out of tough financial times. The way to do better is to seek out new ideas, rather than doing what's always been done. What we do at Beck Ag, what we have been doing for almost 20 years, is connecting people and sharing solutions that impact business results. Those solutions come from peers or from University experts who have been spending their whole careers on solving specific problems in agriculture.
Sometimes our best thinking comes in the tractor. This time it might be when you're in the skid loader moving snow. This great thinking happens after you've been exposed to new ideas. Maybe it's a different product, a different approach or process or a different way of looking at the data that you have.
I'd challenge our producers to seek out solutions. Network. Go to the meeting. Take the call. Talk to the rep. Read.
And those companies that are needing to connect with agriculture in a new way, try something different. We can help connect with the Ag market by creating a unique learning environment.
At Beck Ag, we've chosen to invest in solutions during this storm.