How did you do last week with your social connection? Did you spend time visiting with people outside of your typical daily circle? Did you learn something new? Did you have any tense moments because of a difference of opinion? If so, what did you do then?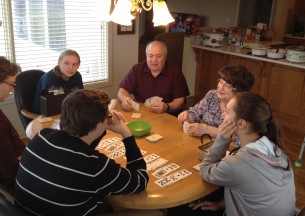 The holidays are famous for the trepidation that comes with stepping right back into that circle of family dysfunction. And surviving.
If you think about it, it's not a whole lot different than the challenge we have on our plates to tell agriculture's story; to create understanding. There are people in the room (on social media) with a difference of opinion. Perhaps they don't agree with you on GMOs or how to raise animals or even the size of implements that are crossing your field. They don't like where agriculture is going. Perhaps you even had some of those consumers eating Thanksgiving dinner with you, consumers that are a generation or three removed from the farm – untrusting of the food supply.
I recently attended a conference put on by AgChat; the Cultivate and Connect Conference. Many of those who attended are farmers who have raised their hands to help with agricultural advocacy. There were a number of others, like me, who don't presently farm, but who work in agricultural communications.
We learned a lot of the latest trends on the technical side of social media, but something that really resonated with me gets down to the basics of building relationships. That's what will help you when sitting down with your wacky relatives, and that will help with consumers as well.
Find Common Ground
It's important, in any relationship, to find something that you have in common. My sister is six years younger than me. She wasn't even in high school yet when I left for college. After college, she was an adventurer. She joined the Peace Corps in Africa. She backpacked Europe. Then she moved to the west coast. Our political views are dramatically different. But we're both moms. We share parents. We have the same goofy brothers. Our best conversations start with our common ground.
It's similar when you're talking about agriculture with consumers. We learned some important steps in the process.
Acknowledge concerns. I've noticed that often people who have concerns about our food supply are also dealing with some sort of mysterious illness in the family. They're looking for the cause of it.
Accept responsibility. In production ag, it's important that we help consumers understand that we know it's our job to raise safe food.
Add context. When consumers are curious about animal production, for example, get specific with them. Help them understand why you do what you do. Let them ask questions – and just answer them.
Align language. Your basic consumer isn't going to know all of the ag terminology. They will likely have heard of GMOs, but may not realize what the acronym stands for or that genetically engineered means the same thing. They won't know a cow from a steer from a bull, so don't laugh. Just meet them where they are and go from there.
Vulnerability
Some of the conference speakers have been through the wringer with their advocacy. They're on the front lines. They talk about the importance of being vulnerable and how that's really where you have the opportunity to advance the conversation. It's that way with your family as well, isn't it? Vulnerability can help build relationships.
If you think you'd like to advocate for agriculture, agchat.org is a great place to start. It's really about being open to listening and learning, and then finding a way to connect and share your story. And if you're not ready for this just yet, you can always use the points above and practice on your family at Christmas.
Kim Lang consults on agricultural marketing, communications and social media, and partners with Beck Ag.