Sixteen was the magic number on Friday as I drove from the National Agri-Marketing Association conference in Kansas City to Omaha. I saw sixteen people in the field – with soil finishers, anhydrous tanks and planters. Spring is here.
Decisions have been made, plans are in place and now it is time to act. This year growers won't just act, but also record, document and adjust. This season I predict we'll see more attention paid to data. Growers will focus on information as much as they pay attention to planting populations.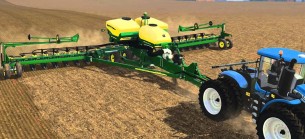 Having and using good data is like having another decision maker at the table, another influencer in the process and another person who is looking at the performance of the plan. Many of our traditional decision makers have the benefit of another person in the operation helping them gather information, learn and make decisions on the right inputs, the timing and the processes they use to maximize yield.
As our customers are going to the field, we as marketers are starting our planning processes for 2017. How are we including the newest decision maker on a farm? Do we know the strongest influencer in an operation? How are we talking differently to those producers who are focused on making input decisions based on data? Are we helping them understand how our solutions can impact their final numbers this season? How are we changing the conversation now that data is playing a bigger role in driving customer behavior?
Sixteen last Friday. Today, where it is dry, there are many, many more. In some areas of the corn belt there is a foot of snow. Could be an interesting spring! I know it'll be an interesting planning season as we start to think about how to influence the marketplace differently.
If you'd like to talk about planting the seeds for better customer conversations, call me at 866-375-4390.