Power of Experience-Sharing Has Proven Valuable in Animal Nutrition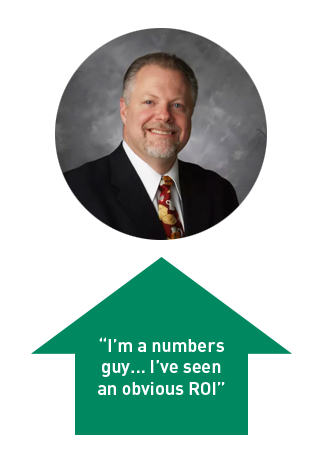 Dr. Steven Lerner, Global Director, Scientific Affairs and Marketing
Chr. Hansen, an international company specializing in microbials and probiotics, has partnered with Beck Ag for the past 3 years to allow U.S. producers and nutritionists to learn more about the value of probiotics in cattle.
"We were looking for a way to accelerate the adoption of key products further into the marketplace. We had a good story to share on our products, but needed help educating more cattle producers and nutritionists."
Beck Ag built a marketing strategy which included experienced, peer influences as part of the mix. This strategy utilized third party experts, users of key products, and technical reps who could best explain ROI and how to optimize performance.
While connecting with thousands of influencers and customers in the market, Beck Ag garnered unfiltered, market insight such as current product usage and perceptions, as well as current feed and nutritional challenges.
This insight, coupled with the number of head influenced and demand created, has provided more understanding of their customers and shortened the buying decision process for those interested in adding a probiotic to their ration.
"77% of participating nutritionists are now interested in recommending the featured product"
Beck Ag Go-To-Market Strategy – Consistent Measurable Results over time: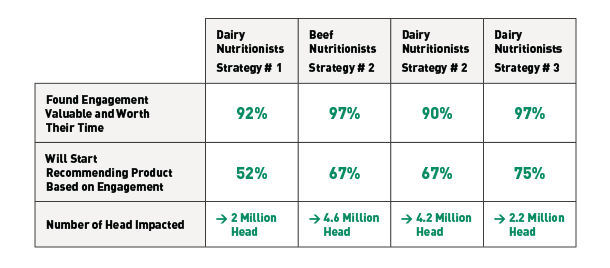 "I'm a numbers guy, and it's been fun to watch the sales numbers after Beck Ag completes their work. I've seen an obvious ROI, which is why we've been working with Beck Ag for years. But in addition to the ROI, we keep coming back because of their professionalism and ease of doing business. I know that they're going to represent our product and company in the best light while also educating folks about our product. It's a win-win solution for me"
For more information about Beck Ag's Go-To-Market capabilities, please reach out to one of our Vice Presidents
---
Ready to work together, participate in our programs or get more info?
Let's talk and we'll show you how being a part of Beck Ag's Experience-Sharing Marketing strategies can make a difference in your business.