I went on vacation last week. One week with no TV, no cellular service to speak of, and very poor (at best) internet connection. We didn't know that until we got there. We were in the boundary waters area of northern Minnesota.
What a beautiful place! I'd call it God's country, but when you are in the agriculture industry that is argued by many who have deep dark soil. My husband and I, our 17 year old son and my parents shared a small cabin in the woods alongside Lake Vermillion and we let the week unfold.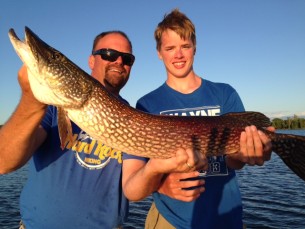 When we least expected it, it rained and we couldn't be out. When I least expected it, I won the hand of cards we were playing. My son caught on to playing 500 with analytical expertise that I didn't expect. When I least expected it, my sister-in-law called; my brother was in the hospital. (He's OK.) When I least expected it, my son told me how much he enjoyed the week with his grandparents.
At times, I wonder if we are paying close enough attention to the conversations we are having with our customers. Are we focused on what we want the outcome to be, or are we listening close enough to hear what we least expect? Customer engagement is often about the ability to involve ourselves in what we least expect, to be flexible and really have a conversation that flows and meets the needs, answers the questions, and provides your customers – or prospective customers – value. Value conversations build unexpected and sustaining relationships.
So how do you prepare yourself for the unexpected, for a value conversation?
Go to where they are. Don't expect your customers to come to you. Join them where they are, both in presence and in mindset.
Understand your customers' current situation and help them visualize the future.
Engage with questions, suggestions and solutions. Limit the features, advantages and benefits talk as you were taught in Sales 101.
Act on their requests. So many who engage with customers forget the most important step, and often the simplest in developing a value relationship: follow up on what you said you can deliver, plus one. Add something the customer least expects.
Value is driven in many different ways. We weren't expecting no TV, no cellular service, no internet. We didn't plan on rain and cramped quarters – but we also weren't expecting the accomplishment of my husband and son when they brought in one of four large fish they caught last week; a 20 pound Northern Pike measuring 36 inches.
Last week was not what we expected, but we valued every moment!
What are some unexpected ways you could delight your customers this week?