We just wrapped up another successful conference, the National AgriMarketing Association meeting in Kansas City. It's an opportunity to connect with our peers and step outside of our comfort zones and learn.
I've been attending these conferences for more years than I'm going to admit. Yet, every year, there's a take home that we can integrate into our business. There's a person who might make a good partner. There's an innovation that someone shared. There's a new way of looking at things.
The opening speaker, Peter Zeihan is a geopolitical consultant who gave a presentation on old things, slow moving things that he says are going to have a huge impact on our business. He looks at shale and rivers and population trends to predict what will happen in our world. At the end of his talk, he said:
"We are at the dawn of the greatest ag boom of our lifetimes and it will last 30 years."
That's certainly a nice little chunk of hope as we've been living with the thought that we have a couple of rough years ahead.
We in agriculture can lean in to the future, pushing ourselves forward, making ourselves better while the shale reserves and the river systems and the population trends turn in our direction.
Learning at these conferences, and every day, for that matter is key to making us better at what we do. It's what's behind innovation. Period.
"Learning and innovation go hand in hand. The arrogance of success is to think that what you did yesterday will be sufficient for tomorrow." – William Pollard
As Michael Berger points out here, learning is key to being a successful leader. So if you're just back from the meeting, feeling behind from being gone, consider that it was important for you to invest in yourself and your future.
And speaking of your future, this particular meeting involves a student competition, which is a great way for us to connect with the ag marketers of the future. The meeting offers a chance to build mentoring relationships, which is another way to learn…on both ends of the deal. Beck Ag participated at the student level by again sponsoring a scholarship in memory of Tom Tomlinson. The winner this year is Erica Ballmer, a junior at the University of Wisconsin – Madison. Erica is pursuing a degree in Dairy Science and Life Sciences Communication. Congratulations to Erica!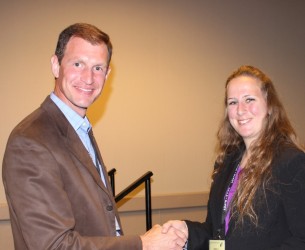 As you move your marketing plans forward, how are you adding innovation? How are you leaning out of your comfort zone? How are you learning (or teaching)? And how are you leading your teams and your company and your customers? Leaning, Learning and Leading are all critical pieces of business done well.