It's started.
I know in the south it's been going on for weeks, but outside my window and across the northern cornbelt it has started. Days are measured not in hours, but in the number of anhydrous tanks pulled, acres planted and meals brought to the field. And ideally, weeks are measured in the number of days between breakdowns. It has started.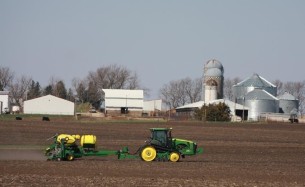 Our work has started as well. As growers go to the fields we are preparing to talk with them and learn about their experiences on new technology, with new management practices and new solutions to the age old question of how to maximize yields. Whether it is corn, soybeans, cotton, rice, canola, apples, vegetables or fruits, we are working with growers throughout the industry, learning about their experiences, capturing their observations and developing advocates:  peers who are willing to observe, evaluate and share.
Peer influence is so powerful when we are making buying decisions and there is nothing more valuable to a marketer than the testimony of a customer. Putting those pieces in place starts now, at the beginning of the season.
If you think about how this works, it really helps us save time and money. We are able to leverage the power of the experience of our customers with our prospects. When we do that, we set the right expectations in the marketplace and through much research we know that we accelerate prospect adoption.
So how do we get started developing advocates?
Identify the influencer. Typically, we find a customer that represents our target prospects very well. They're someone who is willing to try the solution, evaluate the performance over time and measure the outcome. This influencer should also be someone articulate, who others naturally gravitate toward. It helps as well if the influencer is well respected in the industry, or at least locally.
It's important for the influencer to be authentic. Find someone who came to you first to say good things about your product or service, someone who was a happy customer without any kind of special treatment.
Create opportunities for your influencers to share their experiences and talk about your brand with targeted prospects. This is more than just taking a picture of the influencer and putting them on your web site with a quote. How and where can you get them together and how do you plan to guide that conversation?
To keep peer influence going, it's important to make sure your chosen influencers continue to be happy with your product. Check in with them frequently. Nothing is worse than a former brand advocate out in public now bad-mouthing your product. Engage with them. Listen to them. Stay connected with them. Pro-actively deal with issues as they come up. Keep them happy.
These are a lot of steps and it takes relationship building and consistent dialogue. The return on investment and return on time are worth it. Your targeted prospects are able to test drive your business solution through the eyes and minds of someone like them.
We've started working with some of the largest growers in the country as they go to the field. What is your plan to develop brand advocates and leverage peer experiences in your upcoming marketing strategies? Have you started? We can help you with that. If you'd like to know more, send me an e-mail at info@beckag.com.