There's a trend, brought to us by the millennial generation, to value experiences over things. It's a twist on the concept of money buying us happiness, and a thought process that we get used to our things and take them for granted, as our experiences become more important over time. This article dives deeper into the science behind it.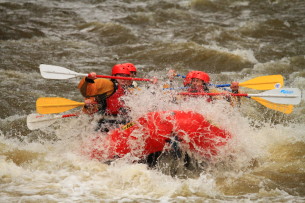 Travel, scuba diving, hang gliding, going out to dinner.
What does this mindset mean to your marketing? Let's think about it.
Event marketing – certainly companies in agriculture have been doing this sort of thing, to a degree. They sponsor their prospects or their good customers to attend an event, like a big farm show or a conference or car races. Some of these events give people access to famous people or entertainers. I've seen companies do this as they court media.
You could also put on an event at your business and invite customers and prospects in for a tour and an opportunity to get to know the people who create your product. The experience is that the customer could play a role in product development with next generation improvements. What customer passes up the opportunity to be heard?
Learning opportunities – this is a way to combine their own personal business development with an experience. Could you give them access to specific experts in an area and an opportunity to ask questions specific to their business? National NAMA does this when they bring in keynote speakers (someone who has written a book on a particular topic) and then they also have them give a breakout session where they have a chance to go deeper into their topic with a smaller audience. This interaction brings value to the participants.
In our work, we offer a variation on these kinds of opportunities regularly. Farmers aren't required to travel. They join us by phone or online or both, spend an hour, and have the chance to engage with experts and their peers to learn. They discuss products and ideas that make a difference to their business.
This is done through a couple of different business models. The one-hour sessions allow companies to invite a number of prospects to learn something new. Maybe it's a new product or a new process or even a new way to tackle a farming challenge. We call this Market Influence.
Market Instruction is a variation of this, a curriculum with an expert and a moderator that allows a small group to learn very specific skills. These sessions have demonstrated the ability to advance a company's brand with a targeted group. The people who attend these sessions might learn sales skills or how to work with and manage people of other generations.
Business Coaching – agriculture is in a challenging environment right now. What can you do to bring additional value to your customer, to help them hone business skills that will keep them competitive during these times?
Networking – agriculture can be a lonely career. Depending on where someone operates, they may not have easy access to others to share business ideas, ask questions, or just build personal relationships. Do you have a way to provide networking situations to your customers? I think many appreciate this kind of thing.
Community – I like the ways that technology allows us to get to know others. We can start and build relationships online through sharing on social networking sites. Different sites allow us to share different parts of ourselves, and those sites continue to evolve. Do you have a way to facilitate this kind of networking with a group or be involved in the conversation? Our site, www.beckagconnects.com is a private online community for agriculture, allowing those in the business to interact with each other without activists wading into the mix.
The size of the millennial generation is gradually changing the way our world operates. We can complain about it, OR we can embrace some of the new ideas or trends that they bring.
What are you doing to give your customers an experience?