Recent Insights gained on Communication Preferences from 7,000+ Customers
Do you know how your customers and prospective customers prefer to be communicated with? Often times we can take a cookie cutter approach to our marketing efforts by blasting out emails or sending direct mail. But how much more effective would your marketing dollars be if you knew how your customers preferred to receive communication?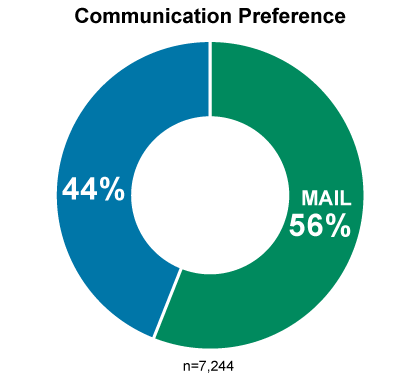 Beck Ag recently talked with over 7,000 agriculture professionals, both involved in production and throughout the channel. One piece of information gleaned is that preference of postal mail vs. email is still split.
When you look at age groups, the breakdown doesn't deviate too far from the overall average until you get to the 65+ age group.
This is just a small sample of insights gained, and these overall trends of communication preferences vary by company, segment and customer audience. However, the question is, do you have enough customer intelligence to ensure your message is most effectively communicated, in the way your customer wants to be communicated with?
Marketing and sales strategies that have the most impact get you closer to the customer with every interaction. We find whether it's with small companies or large global businesses that a truly integrated, marketing database may still be an aspirational goal. In many situations, it is on the plan for next year, but then it gets de-prioritized. There is opportunity in nearly every segment of agriculture for manufacturers and service providers to capture competitive advantages and serve their customers better with improved market intelligence and database efforts.

Benefits of Customer Intelligence: Clearer segmentation
Truly get closer to the customer
Connect better with customers
Align customer's experiences with company value
Spend dollars more effectively
Better tailor value
Better communication
Product innovation
For more information about AGIQ® services, contact Monica Patterson-Phillips
---
Ready to work together, participate in our programs or get more info?
Let's talk and we'll show you how being a part of Beck Ag's Experience-Sharing Marketing strategies can make a difference in your business.