There's not just one generation gap these days. There are four. For the first time in history, we have four generations in the work place at the same time. And this is not all that rare on the family farm. It's probably rare not to have multiple generations represented on a farm.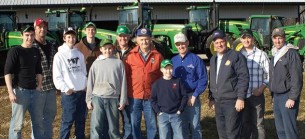 In many farm businesses, it's common for someone in the traditionalist generation to still be active in the operation. They may not make the final decisions but are probably consulted out of respect and have an influential role in matters that impact the operation. A Baby Boomer may be the key decision maker but often includes others in the decision making process and even defers decisions to others based on expertise. Millennials and Gen X family members are likely the digital natives and therefore heavily influence decisions about purchasing technology.
If you're doing business with farmers, it's helpful to know a few things about each generation's distinct attitudes, expectations and motivational buttons. It promotes understanding and helps resolve or prevent conflict. Chances are you work with someone in a different generation as well. And understanding your co-workers can be just as important as understanding your customers.
Here's an example that could easily apply to any ag business:
A friend of mine, who manages food service operations for a school district honed right in on the differences in generations when I brought this up. He has employees who are the older Baby Boomers and many in the younger generations. He's a Boomer himself. He finds it easy to depend on the other Boomers. They are not as lazy as the younger workers, he says.
This might sound really familiar to you. Certainly as a manager with an eye on the future, you can't only hire Baby Boomers. Eventually they'll all retire. Having a better understanding of all of the generations and their strong points and motivations would help my friend be a better manager. And it takes more than reading a list of each generation's descriptors. It takes some interaction and thought to use this information to build strategies for better business.
To address this need, we have created a course that helps companies and organizations better relate through the generations. Ag retailers, for example, have used it to better serve the multi-generational farming operations in their customer bases. One retailer participant said, "This hits home. I had a Baby Boomer customer who wanted some information, and asked me to bring it to him in person. A Millennial customer wanted the same information on the same day and asked me to just text it to him. We definitely are dealing with diverse customers."
The course is designed specifically for agricultural professionals to learn from others in their own businesses, and is led by a professional moderator and a business coach with expertise in this arena. If you'd like to know more, please contact me at mwoldham@beckag.com.