If you're in sales, you know there's always limited time to do what you need to do in order to make your numbers. Doing sales well is about allocating your time to the proper 20 percent, if you consider the 80/20 rule. Are you spending most of your time getting to know and understanding the motivations of your best prospects? And how do you know who your best prospects are?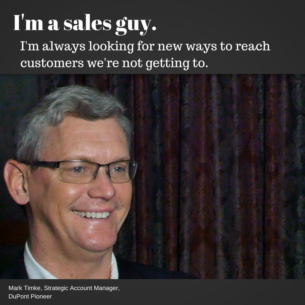 Let's break that down a little. There are probably a million ways to slice and dice the information that your company collects about your prospective customers. Is your company collecting the right data? What do you know about WHY people buy from you? What motivates your best customers to keep coming back to you?
This is all excellent information to help you better use your sales time and set up a great system for selling. If you're managing a team of sales people – this is job one.
On a regular basis, I have many priorities vying for my time. I find that if I take the time to set up a "system" for organizing my priorities or keeping plugged in to the latest industry trends, I'm able to be more effective with my time. So it takes time to set up a system – but that leads to time rewards later as I'm spending my time on the right priorities.
Mark Timke is strategic account manager for the U.S. for DuPont Pioneer. His job is all about prioritizing and working smarter. And he has found success in partnering with Beck Ag in the sales process.
"We had given about 900 prospects we hadn't been able to sell and through the multiple conversations and approaches they (Beck Ag) used, they brought back about over 400 hot leads that we call them and then our sales folks went out and followed up with them and they had tremendous success. So if you compare the average of the whole company how our prospecting efforts were going compared to the Beck Ag project, it was significantly higher every time we did it. So it's a great program to run."
Mark Timke found that working with us, he has been able to speed up the buying cycle because of the conversations that Beck Ag has with their prospects. Beck Ag is able to have conversations with them and learn more information about what's important to the sales prospects. Timke says the contract with Beck Ag adds efficiency within their sales processes.
Think about it. What will your company do differently this next selling season to be more efficient, to do a better job understanding the best prospects, to ultimately sign more business?